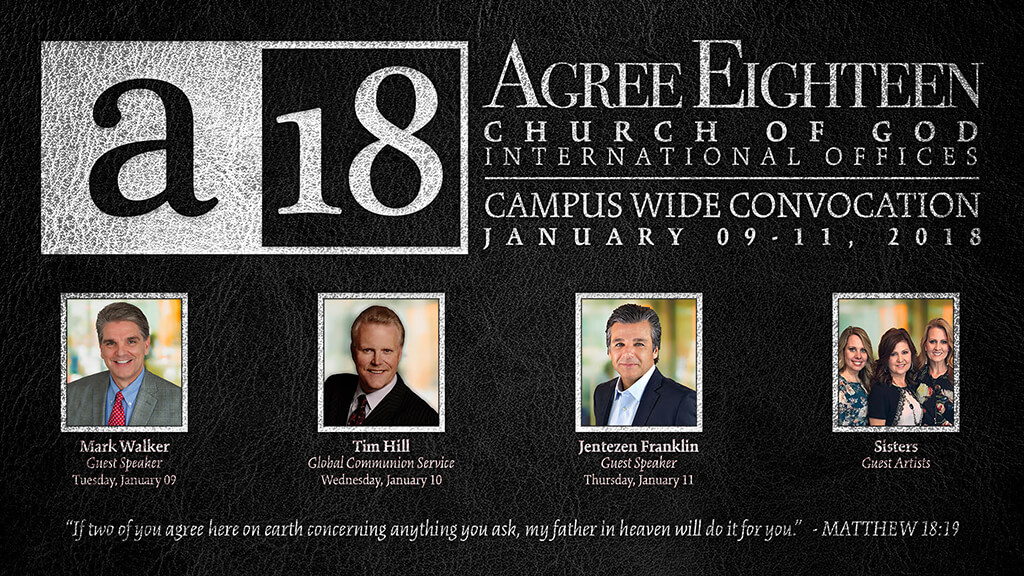 Join with the Church of God for Agree '18!
---
Agree '18 is a three-day revival and prayer convocation beginning Tuesday, January 9, 2018. It will take place at the Church of God International Offices in Cleveland, Tennessee and will be streamed live around the globe. It is part of a three-day revival for International Offices employees, but everyone is invited to attend, either on-site or via live stream.
The event includes morning sessions beginning at 10:30 a.m. and evening prayer meetings at 7:00 p.m. All times are Eastern Standard Time (EST).
Dr. Mark Walker, former senior pastor at Mount Paran North Church of God and currently vice president for ministry development at Lee University, will begin Agree '18 as the keynote speaker on Tuesday morning. On Wednesday morning, General Overseer Tim Hill will lead the service, concluding with what he is referring to as a "global communion service," beginning at 11:30. Jentezen Franklin, pastor of Free Chapel of Gainesville, Ga. and Irvine, Calif., will wrap up the morning services on Thursday. Special music during the Wednesday morning service will be provided by Sisters.
In the evenings on January 9-11, Church of God Prayer Coordinator Doug Small will lead a global prayer service from the studios of the International Offices. While the agenda for each of the services will vary, they will feature a variety of church leaders, missionaries, local pastors, and students who will lead in a time of prayer for the nations and world at the start of the New Year, 2018.
Limited seating will be available at the International Offices, but all are encouraged to log on and worship via livestream, which will be accessible by clicking on the link below at the times stated for both the morning services and evening prayer gatherings.
General Overseer Tim Hill stated, "Agree '18 will be a way for all of us to 'agree' and seek the Lord on the direction He is leading all of the Church of God in 2018 and into the future." Agree '18 is based upon Matthew 18:19 which states, "if two of you agree on earth concerning anything that they ask, it will be done for them by My Father in heaven."
Livestream Dates and Times (all times Eastern Standard – EST)
Tuesday, January 9 - 10:30 a.m.; 7:00 p.m.
Wednesday, January 10:30 a.m.; 7:00 p.m.
Thursday, January 11: 10:30 a.m.; 7:00 p.m.